Multi-Material Additive Manufacturing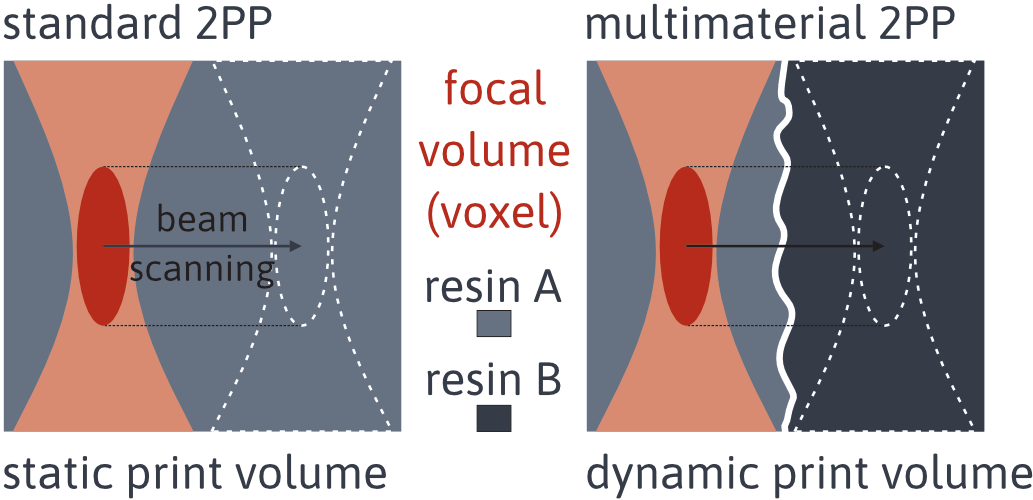 Additive manufacturing summarizes different digital fabrication techniques, directly turning digital design data into a physical representation. This allows for a full free-from fabrication of arbitrary shapes and enables rapid prototyping as well as production. Multi-material additive fabrication enables digital 3D printing of different materials together in one process. This is true functional 3D printing and facilitates high-density compact device integration for more performant products.
With the HETEROMERGE multi-material print-head and process, you can print heterogeneous composites consisting of different material sections having fundamentally different properties such as
high and low optical refractive index,
high and low elastic modulus,
fluorescence and non-fluorescence,
optically active or passive characteristics,
which is of great interest for device fabrication and integration in Optics, Photonics, Packaging, MEMS, and Tissue Engineering.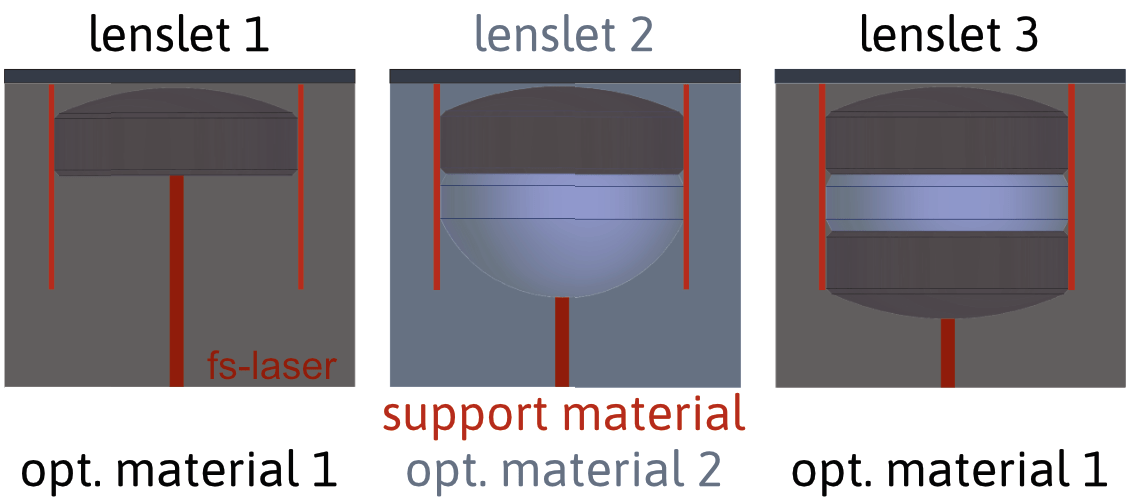 Multi-material lenses are consisting of different materials having different optical dispersion, meaning different optical refractive indices for the different wavelengths. Multi-material lenses improve the picture in imaging applications and the laser focus for beam shaping.
For polymer micro-optics, two-photon 3D printing is appealing. The direct laser-writing technology offers superior surface finishes (< 10 nm RMS) and the finest feature sizes, while maintaining high fabrication speed. HETEROMERGE radically improves this technology by modifying the established printing process to realized multi-material compound lenses.
With us, you can achieve the main advantages of polymer micro-lenses, namely:
reduced complexity due to free-form manufacturing,
cost reduction due to faster and easier assembly,
less weight and impact sensitivity.
Combining this with multi-material lenses shapes more opportunities and benefits like:
better and sharper images,
more precise beam scanning,
higher fluence,
more positioning tolerances
due to improved broad-band operation, tighter focus and better off-axis performance.
Multi-Material Photonics Packaging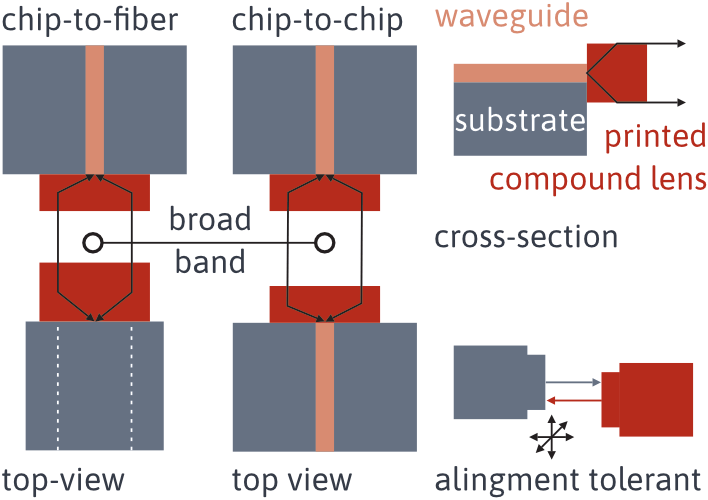 Photonics packaging ensures for photonic integrated chips the optical and optoelectronic connection to the world beyond the chip, the mechanical integrity of the resulting chip assembly as well as the protection of the chip against environmental impacts. Today, data centers and cloud services are the backbones of our data-driven society. The increasing data traffic calls for optical transmission. It is required to bring optical connections as close as possible to the electric chip level to meet the data needs.
Printing optical components render packaging tolerant against photonics chip and module technology. This helps contract manufacturers with high mix product portfolios and custom-specific designs efficiently deliver optical module packaging and heterogeneous technology integration in a short time.
Our print-head supports optics contract manufacturing by addressing the current assembly needs like:
application-specific printing (free-form,free-space, free-material),
automated fabrication,
precise multi-fiber to chip coupling,
aberration-optimized design for a large wavelength range
to support universal manufacturing platforms and to enable efficient coupling.